The growing Chinese investment in European clubs comes under close scrutiny at entrepreneur summit
Chinese investors have launched a determined drive into European football, both at the club level and in the sport's infrastructure. Yet while many welcome the move, some have raised questions about their long-term intentions.
One of the biggest moves to date has been Shanghai Jinxin Investment Fund's acquisition of a 65 percent stake in MP & Silva, the No 1 football rights agency, in a deal that values the company at about $1 billion.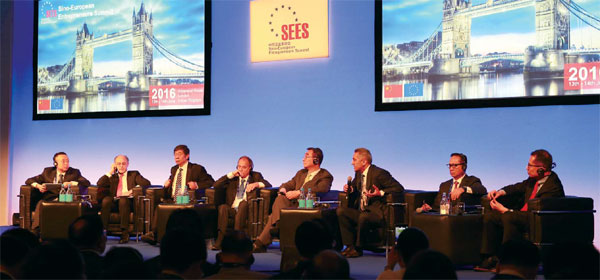 Experts discuss China and UK financial cooperation opportunities at the Sino-European Entrepreneurs Summit in London. [Photo by Chen Shan / China Daily]
Representatives of Baofeng Technology and Everbright Group, the Chinese companies behind the fund, and MP & Silva came together in London on June 14 for a panel discussion on football investment during the two-day Sino-European Entrepreneurs Summit.
MP & Silva distributes sports programming to more than 200 broadcasters in 215 countries, with their products including English Premier League football and Formula One motor racing.
Previously, Chinese enterprises have either acquired football clubs outright, such as Aston Villa, or bought stakes in clubs, such as the deals struck with Inter Milan, Manchester City and Espanyol (and potentially AC Milan if talks with former Italian prime minister Silvio Berlusconi are successful). Companies have also agreed sponsorship deals with FIFA, world football's governing body.
There may be pitfalls, however.
According to Yang Muyue, founder of SBD International, a consultancy in Geneva that helps Chinese firms with European acquisitions, the Chinese are often in the danger of paying over the odds due to discrepancies between valuations in China and the West, and that this trend is also true in football industry acquisitions.
In China, valuations for resources tend to be at inflated prices, whereas in local markets, acquisition valuations are more reasonable, he explains. However, he adds, if Chinese companies can integrate football resources into their much larger home market operations to achieve greater synergy, the higher prices they pay will be worthwhile.
Wang Yunfan, CEO of Morning Whistle Group, which also helps with Chinese overseas mergers and acquisitions, urges Chinese investors to exercise caution when acquiring football assets.
"Post-merger integration is a challenge faced by all outbound Chinese acquisitions, but it becomes particularly significant in cultural industries such as football because companies in these industries have a high proportion of intangible assets compared with tangible assets," he says. "This means that if the Chinese managers cannot establish a good relationship with a Western football club's existing management and players, these talents may leave, and what the Chinese firm acquires becomes an empty shell."
Wang advises Chinese firms to first acquire minority stakes in Western companies, to get a taste of a club's culture and operations, and to gain a foothold at the boardroom level. Building this experience can reduce risk in post-merger integration, he says.
Giulio Gallazzi, chairman and CEO of consultancy NPV Europe, says when Chinese companies buy majority stakes in European football clubs, he advises them to set up a new board in charge of managing the target.
"It won't work keeping a club's existing management team because for a long time they've focused on the idea of running a football club in a European market and have no idea what the Chinese acquirer wants from the deal," he says.
MP & Silva co-founder Riccardo Silva dubbed his company's deal with Shanghai Jinxin the "perfect fit" in terms of finance and innovation, given Everbright's status as the second-largest financial group in China. He also cited Baofeng's progress in bringing virtual reality into broadcasting and its work to develop an internet TV platform.
Feng Xin, CEO of Baofeng Group, agrees that the partnership has come at the "perfect time", as China's GDP per capita continues to climb and an increasing number of people have money to spend on entertainment products.
Observers or meddlers?
However, the heavy investment in European football by Chinese companies has caused concern among fans about what the money will mean for the future of the beautiful game on the continent.
Examples of foreign owners meddling in player transfers, on-field tactics and even club traditions have frequently made headlines over the past decade, such as Malaysian businessman Vincent Tan's attempt to boost Cardiff City FC's global appeal by changing the team's home jersey from blue to red and replacing the crest's bluebird with a dragon.
Russian billionaire Roman Abramovich, the owner of Premier League club Chelsea since 2003, was in the early years accused by the media of meddling in team selection and tactics.
A Chinese investor has already made a faux pas in Portugal. In January, LED light manufacturer Ledman, which has a sponsorship deal with the country's second division, sparked outrage when it insisted that Chinese players feature in the clubs' starting lineups. The company quickly backtracked, but it opened up the question whether Chinese investors plan to adopt an interventionist approach or will purely act as financial backers.
Lin Feng, CEO of DealGlobe, the platform that facilitated the MP & Silva deal, describes Chinese investors as passive. "They're not really going to be actively involved in the day-to-day running of clubs, and I think that's important. The Chinese invest money and resources rather than actually manage the club," he says.
"For example, Chinese buyers are clear that they don't know the football market in Britain that well - many of them don't speak English, so for them to manage a company in a very active role would be difficult. For all Chinese buyers, their view from a financial perspective is to back the club and, at the same time, add strong value from China and Asia. As for the operation of clubs in Europe and Britain, they will let the management team handle it."
Simon Chadwick, a professor of sport business strategy at Salford University, believes on the whole that Chinese investors are not in search of vanity projects but rather are facing a steep learning curve as they contribute to President Xi Jinping's plan to establish China as a football superpower.
"The way I would rationalize this is that if you were a Chinese businessman or woman, you're not buying a football club, you're buying into football, and I think there is a subtle difference there because although you may be the legal owner, fans will always see you as sharing your ownership with them. As a consequence, you have to be more sensitive in the way you go about your business.
"In fairness to Ledman in the Portugal case, (the company) didn't understand the sensitivities around what it was trying, and as soon as the backlash took place it didn't fight head-on - it took a step back and acknowledged that this is an industry like no other, in the sense that you've got to defer sometimes to the history, the heritage, the sociocultural influences of football."
In frank terms, Feng offered his own reassurances. "There is an old saying in China that business is business, so profit is priority. In terms of cultural conflicts between (Chinese) owners and clubs and fans, that will be minimized," he says. "After all, the involvement of Chinese companies will mainly be on a capital operational level."
Link:http://europe.chinadaily.com.cn/world/2016-06/17/content_25750996.htm